The Fuji Declaration 8th Anniversary Celebration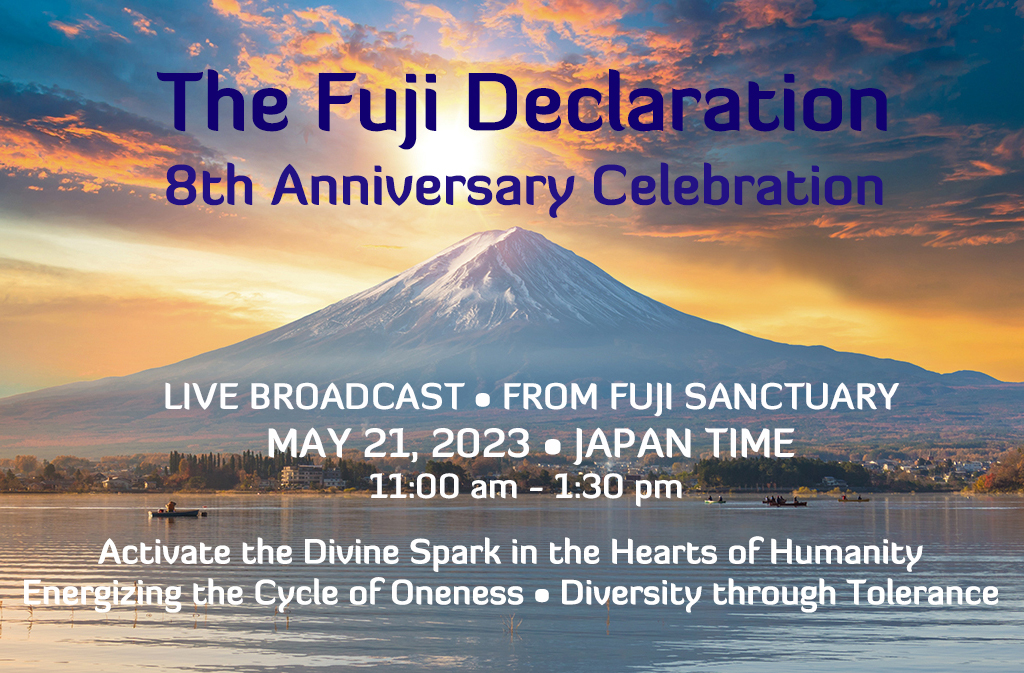 The Fuji Declaration 8th Anniversary Celebration
At Symphony of Peace Prayers
Fuji Sanctuary
Japan
May 21st, 2023
11:00am – 1:30pm
The Fuji Declaration was launched in May of 2015 during a grand inauguration ceremony at Fuji Sanctuary. Since then it has become a tradition to celebrate the anniversaries of The Fuji Declaration at the Symphony of Peace Prayers event which is held annually at the foot of Mt. Fuji. This May marks the 8th anniversary of The Fuji Declaration and the occasion will be celebrated again during a live broadcast of Symphony of Peace Prayers from Fuji Sanctuary.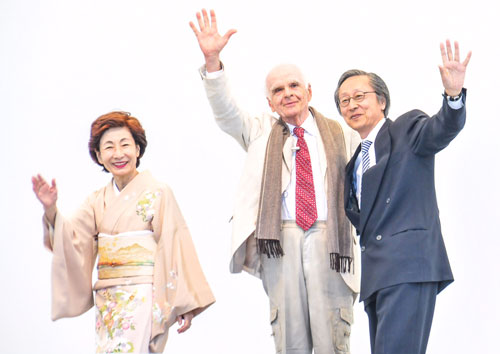 The three co-initiators of the Fuji Declaration, Ervin Laszlo, Hiroo and Masami Saionji, extend their heartfelt invitation for us to join the 8th anniversary celebration. The founding principles of The Fuji Declaration highlights the spirit of oneness and diversity which are values that are ever so needed in the world today. The principles of The Fuji Declaration will be enhanced further this year under the theme of Energizing the Cycle of Oneness as we seek Diversity through Tolerance.

The Fuji Declaration 8th Anniversary Celebration
At Symphony of Peace Prayers
Fuji Sanctuary • Japan
May 21, 2023
11:00am – 1:30pm
UTC/GMT May 21st at 2:00 am
USA PDT May 20th at 7:00 pm
USA EDT May 14th at 10:00 pm

CLICK BELOW TO WATCH THE LIVE BROADCAST

The Fuji Declaration 8th Anniversary
Program
Co-founders
Dr. Ervin Laszlo
Hiroo Saionji
Masami Saionji
Guest Speakers
Joaquin Leguia (Founder, *ANIA)
Dr. Eliane Ubalijoro (CEO, *CIFOR-ICRAF) 
Barbara Arredondo Ayala (Activist and Producer, Founder Decididas,  Anónima Media)
Kristin Hoffmann (Singer-songwriter)
*ANIA is an NPO that guides children to become friends with nature.
*CIFOR-ICRAF is an environmental organization that covers Agroforestry, forests conservation and climate change, landscape restoration, rights, and forest policy.
*Decididas is a content and event platform that highlights women's stories and issues in Latin America focused on promoting gender equality and women's economic growth.
*Anónima Media is a production company with the mission to create content for and by women from Latin America and Spain.
MC
Maki Saionji Kawamura
(Executive Director, The Goi Peace Foundation)
Introduction
Remarks from the co-founders
Messages from the guest speakers
Music performance to feel Oneness and Diversity
Deepening understanding for Oneness and Diversity
Symphony of Peace Prayer
Program
Opening
Welcoming Remarks
Praying with the Religions of the World
Fuji Declaration Presentation
Gratitude to All Life
Prayers for Peace in Each Country
Divine Spark IN
Closing
The following prayer leaders are scheduled to appear at this year's event:
Fr. Muhindo Mapendo Kasongo Pascal (Christianity)
Ms. Tamar Alon (Judaism)
Imam Muhammed Rasit Alas (Islam)
Mr. Daisuke Ogino (Shintoism)
Ven. Ryugen Matsunami (Buddhism)
Dr. Chintamani Nath Yogi (Hinduism)
☆ ☆ ☆
Post Event Questions
The program for The Fuji Declaration posed questions about how to deepen our understanding of Oneness and Diversity, and the question about the practice of it in our daily lives.
Please click here for more information and fill out your responses to the questions.
https://fujideclaration.org/23f
More details will be uploaded soon.