The Fuji Declaration 7th Anniversary Celebration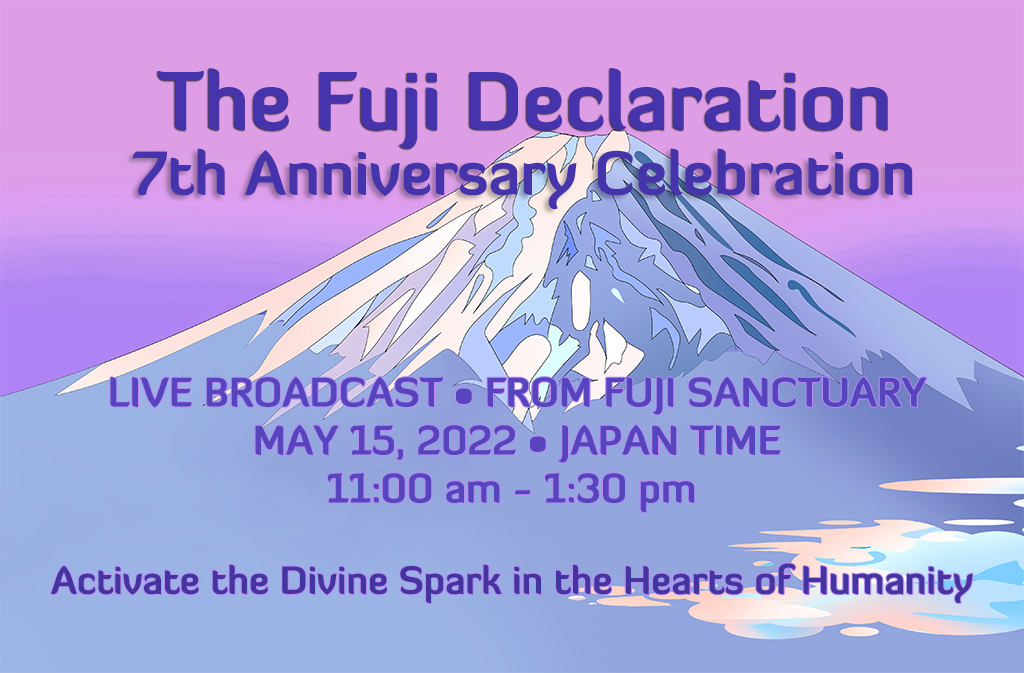 The Fuji Declaration 7th Anniversary Celebration
At Symphony of Peace Prayers
Fuji Sanctuary
Japan
May 15th, 2022
11:00am – 1:30pm
The Fuji Declaration was launched in May of 2015 during a grand inauguration ceremony at Fuji Sanctuary. Since then it has become a tradition to celebrate the anniversaries of The Fuji Declaration at the Symphony of Peace Prayers event which is held annually at the foot of Mt. Fuji.  This May marks the 7th anniversary of The Fuji Declaration and the occasion will be celebrated again during a live broadcast of Symphony of Peace Prayers from Fuji Sanctuary.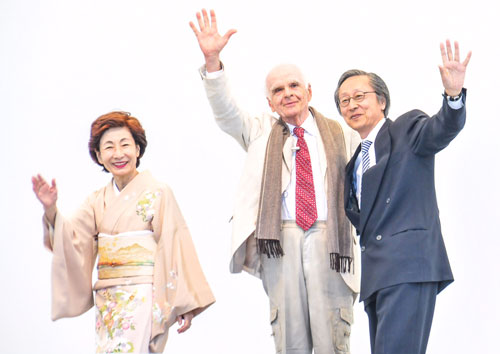 The three co-initiators of the Fuji Declaration, Ervin Laszlo, Hiroo and Masami Saionji, extend their heartfelt invitation for us to join the 7th anniversary celebration. The founding principles of The Fuji Declaration highlights the spirit of oneness and diversity which are values that are ever so needed in the world today.  We are invited to witness the 7th anniversary to ignite together the Divine Spark which rests within every human heart for a more harmonious, compassionate and sustainable life for all.
The Fuji Declaration enjoys the continued support of over 60 partner organizations and 200 honorary signatories from around the world including pioneering scientists, artists, authors, educators and peace advocates who share a common vision for one peaceful and thriving world. 
Read their inspiring messages for the 7th anniversary.

The Fuji Declaration 7th Anniversary Celebration
At Symphony of Peace Prayers
Fuji Sanctuary • Japan
May 15th, 2022
11:00am – 1:30pm
UTC/GMT May 15th at 2:00 am
USA PDT May 14th at 7:00 pm
USA EDT May 14th at 10:00 pm

CLICK BELOW TO WATCH THE LIVE BROADCAST


Symphony of Peace Prayer
Program
Sr Elizabeth Greim, DC (Christianity)
Rabbi Dr Ariel Burger (Judaism)
Imam Muhammed Rasit Alas (Islam)
Mr. Yuko Chiba (Shintoism)
Mr. Zengi Tanaka (Buddhism)
His Holiness Bhaktisvarupa Vrajapati Swami, M.Tech (IIT Kanpur) (Hinduism)
Pakistan Peace Award Presentation
Fuji Declaration Presentation
Messages from Guests
Mr. Ben Bowler (UNITY EARTH)
Mr. Duane Elgin (Choosing Earth Project)
Meditation
Gratitude to All Life
Prayers for Peace in Each Country
Divine Spark IN
Meditation
Closing
For more details:
https://www.symphonyofpeaceprayers.com/soppatfuji/sopp-2022/