SoW – Divine Feminine Peace Spa – Masami Saionji Speaks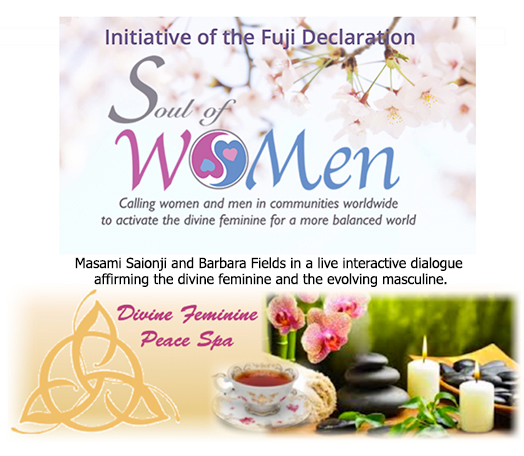 The Association of Global New Thought (AGNT) is hosting monthly online gathering to empower and activate the divine feminine thought and soul movement worldwide and to bring awareness to the evolving masculine for a more balanced world.
The DIVINE FEMININE PEACE SPA will run every month between January and December 2018.
Masami Saionji and Barbara Fields
Executive Director of The Association of Global New Thought and
honorary signatory of The Fuji Declaration
in a live interactive dialogue affirming the divine feminine and the evolving masculine.

To learn more about the DIVINE FEMININE PEACE SPA
CLICK HERE

Divine Feminine Peace Spa
May 7, 2018

Divine Feminine Peace Spa
March 5, 2018
Divine Feminine Peace Spa
February 5, 2018
Divine Feminine Peace Spa
January 8, 2018
To learn more about the DIVINE FEMININE PEACE SPA
CLICK HERE