Listening to the Subtle Essence from Japan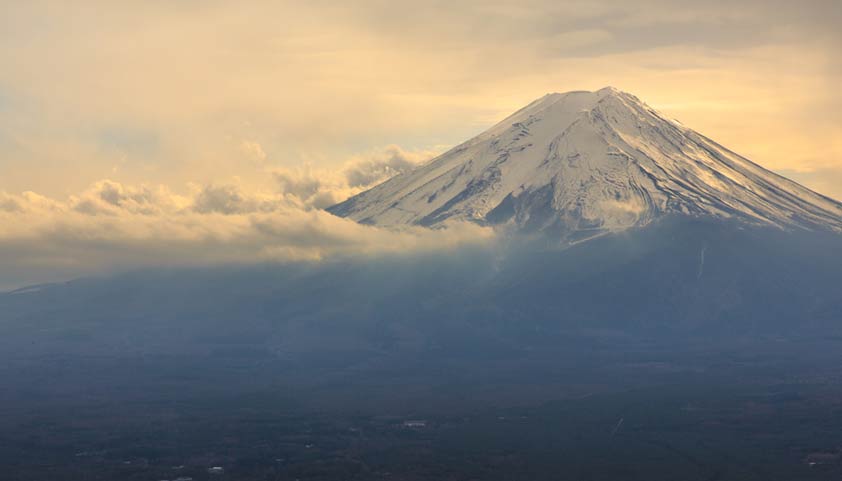 You have brought tears to my childhood recollections of Hokusai's "Boy Viewing Mount Fuji,"(1839). The spirit of a mountain revered not only by all of Shinto, the yamabushi of Shugendo, Buddhists, Christians, Jews, and all people of every persuasion reminds us that nature is our only source of joy, health, vitality, imagination, dreams, food, water, air, and the fundaments of this great mystery we call Earth. Mount Fuji, which has seen its share of tragedies – plane crashes, human clashes, and now – climate change affecting critical water resources from unseasonal and inordinate snow-melt –all underscore the fragility of our lives.
The Fuji Declaration engenders Hope; powerfully reminds all of us of our inextricable and potentially wondrous similitudes. We are not one – we are many – but in that multitude we are, indeed, a symphony, a unison, a singular purpose which is to survive with dignity, in love, in peace, and with the lightest possible footstep.
Japan's first Emperor family, the Fujiwara Dynasty, was distinguished for releasing any and all prisoners; banning all harm to any other species, engendering peace that was unique in the documented history of the world.
Japan's aesthetic insights into Nature have demonstrated humanity's capacity for love and restraint, for the deepest of the deep, the sweetest of the sweet, the most intoxicating of philosophical sobrieties. The Japanese first invented anaesthesia for ameliorating pain, as well as the first postage stamps. While this may seem a peculiar juxtaposition, in fact, it is entirely characteristic of a culture that believe in meting out love, not violence; and in communicating with others.
Moreover, Japan – for over 200 years – renounced all guns, under Tokugawa Shogunate. These are but a few instances from thousands in Japanese history that should remind all of us of that gentle moment in Hokusai of a boy, dreaming of a life, up in his wonderful little treehouse, gazing across to the sacred heights of one of the world's most sacred of mountains.
Let us be guided by this magnificent Fuji Declaration in all of its subtle essences. If we listen, we will see that such subtlety can change the world; make a new human nature from the embers of a weakening one; that it can engender a harmony that embraces all others of every species.
Japan, and Mount Fuji in particular, is the fitting locale for this deeply heartfelt message of universal importance at a critical juncture in our emotional evolution.
In gratitude,