Fuji Declaration Symposium – Co-creating the Future of Business and the Economy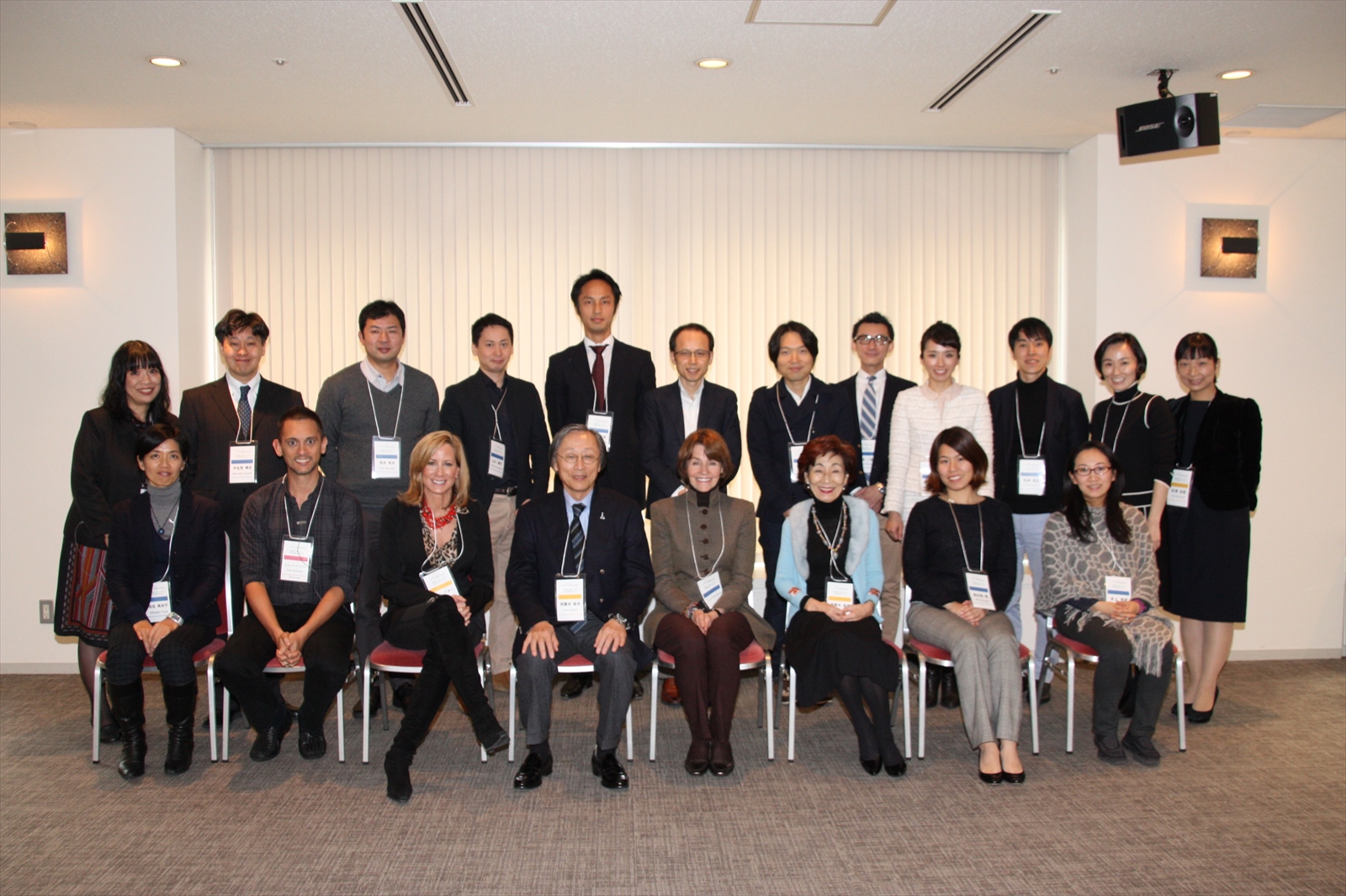 As a follow-up to the Tokyo Symposium in May 2015, which brought together fifty international thought leaders from diverse fields to celebrate the launch of the Fuji Declaration, the Goi Peace Foundation organized a second symposium on November 30, 2015, at the United Nations University in Tokyo, this time focusing on the field of business and the economy.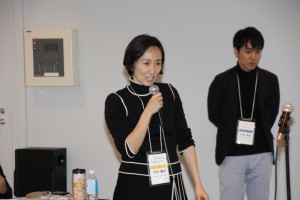 Ms. Lynne Twist, 2015 Goi Peace Award laureate and a very successful fundraiser and philanthropist, was joined at the symposium by twelve young Japanese leaders from various businesses, social enterprises and NGOs. The purpose of the event was for participants to share their practices and personal challenges, and to identify common global issues that we need to address in order to transform the world of business and the economy in line with the aims of the Fuji Declaration.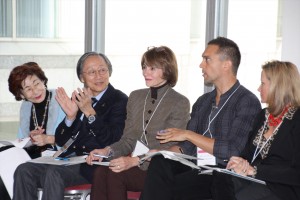 The symposium employed a transpersonal dialogue method, exploring broad and open-minded questions in a small group setting. An atmosphere of intimacy, authenticity, and oneness laid the groundwork for tapping into the group's collective wisdom to come up with solutions and ideas for action.
In his welcoming remarks, Mr. Hiroo Saionji, President of the Goi Peace Foundation, stressed the importance of implementing the principles of the Fuji Declaration in our daily lives and in all fields of human activity, including business and the economy.
SHARING LIFE STORIES
In the first session of the symposium, participants were asked to share their stories of how they came in touch with their divine spark, and how that inner change transformed their lives.
To set the tone, Ms. Lynne Twist pointed out that connecting with our divine spark is the most important and transpersonal experience a human being can have. From that deep connection, she said, anything is possible. In her own journey, Ms. Twist realized that her inner hunger to make sense of her life ceased the moment she found her true purpose in life: ending hunger and starvation in the world. Deeply inspired by Mother Theresa, who was a gifted and genuine fundraiser, she raised over 200 million US dollars in the course of her 20-year tenure to help end world hunger.
Another encounter with the divine spark brought Ms. Twist to the Amazon rainforest, where she became involved with the local indigenous people, who taught her how to reconnect with the sacred and exquisite power of the natural world. She co-founded the Pachamama Alliance, a 'social profit' organization whose mission is to empower the indigenous people of the Amazon rainforest to preserve their lands and culture, and to educate and inspire individuals everywhere to bring forth a thriving and sustainable world.
Ms. Twist stressed that we have forgotten that economy is a subset of ecology, and that we have mistakenly put ecology in service to the economy. This misconception has had very harmful impacts on our relationship with nature and all life on Earth. Thus, she said, it is crucial for human survival that we restore the original relationship between ecology and economy.
Other participants then continued the session with their own personal stories.
IDENTIFYING OUR COMMON CHALLENGES
In the second session of the symposium, participants took some time to write about personal challenges and obstacles they have come across in their work.
Ms. Twist shared her challenges related to the latest terrorist attacks in Paris and the current refugee crisis, and the resulting widespread prejudice against Muslims in general. She advocated that Islam is a peaceful religion, which unfortunately has been hijacked, misinterpreted and misused by radicals. She pointed out that COP21 in Paris would be a significant opportunity for national leaders to shift their mindset and policies from a climate of fear to a climate of love. Atmospheric climate change and the climate of our thinking are interrelated, she remarked.
Inspired and moved by Ms. Twist's personal story and insights, participants shared their own personal challenges in small groups, and explored whether there might be a common thread in their stories that could be attributed to a larger problem faced by humanity as a whole. The group discussions were then consolidated, and the following question was identified as representative of a challenge common to the whole group and to humanity in general:
How can we transform our fear and dualistic thinking of good and evil to create new systems that are aligned with our humanity and life? How can we set a course toward it?
SHARING IDEAS FOR ACTION
In the third session of the symposium, participants reflected on how they might respond to the common question identified earlier, and made personal commitments to take actions in their lives and work. These commitments included the following:
To develop activities that would help people overcome their fears about death.
To promote the 'Awakening the Dreamer' program, which empowers people to transform society through love.
To promote cultural exchanges with a focus on finding commonality rather than differences.
To develop a 'Book Fund' as a new business model to support writers.
To include the development of empathy and trust in my leadership training programs.
To encourage curiosity in our society as a way to strengthen connections and dissolve separation between people.
To include topics of essential humanity in gatherings of political and business leaders and foster a trust-based community among these leaders.
To create more space for people to come together and connect at heart-level and inspire one another.
To offer projects through my company that help clients fulfill their dreams and aspirations.
To support collective conscious evolution through my coaching and child-rearing programs.
To continue my studies to scientifically prove the oneness of all life.
P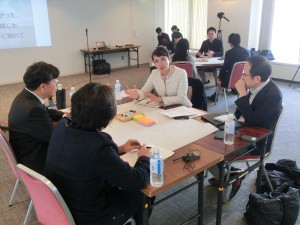 articipants agreed that all of these actions would contribute to creating a more just and sustainable future. They concluded the session by noting that connecting to our deepest humanity is the first step in building an economy in service to all people and all nature, and that fostering a community of like-minded people for mutual support is of great importance.
In her closing remarks, Ms. Twist praised the other participants for their strong commitment and dedication. She stressed that the problems and crises that we face today are very large and complex, but they are not insurmountable. The opportunities of our age, she said, are greater than the crises we are facing. Challenges and crises force us to work together and move to the next stage in our evolution, and this is a great blessing. She also encouraged all participants to stay connected and build on the community that was started at this symposium.
Mrs. Masami Saionji, Chairperson of the Goi Peace Foundation, commented that the participants' profound discussions at the symposium are the best proof that the divine spark is working through us to create a peaceful and prosperous world. To be in service to something greater than ourselves, she said, is what life is all about. She stressed that we are all divine sparks who are meant to reach out, to give, and to be generous. Our divine spark has no limit, and there is nothing we cannot do. It is up to us, she remarked, whether we limit ourselves or whether we allow ourselves to become infinitely expansive.
As the half-day symposium came to a close, the venue was filled with an energy of connectivity, from which each participant renewed their resolve to co-create a better future for all.